Christmas has come and gone, but that doesn't mean that the gift giving has to stop. You can give the gift of health at any time. If you know someone who has a taste for flavors from around the world, then Nazareth Secret Honey and Date Spread Halva Flavored are two experiences not to be missed.
Here is what new customers from Kentucky are saying about our products:
My husband is a connoisseur of honey, and he loved the the Starthistle honey. He didn't make it last long and we will buy more. –Rebecca
I served the Nazareth Secret Date Spread Halva flavor over cream cheese with pretzel chips and there were no left-overs. –Debbie
Loved the honey!—Sue
The honey was incredible!–Barbra
Made in Nazareth, Israel honey ,the mono flowered Starthistle honey draws you in with it beautiful amber color, but the thick, mild taste will be what your taste buds remember. You taste 100% all natural mono flowered honey not watered down imitations. Use Nazareth Secret Honey in your tea, spreads and bread recipes. The date spread is appealing because of its unique halva (crushed sesame) flavor and is a great alternative for those with nut allergies. You are sure to love the date spread, with its unique Halva flavoring. It makes an excellent healthy snack and is a wonderful alternative to peanut butter.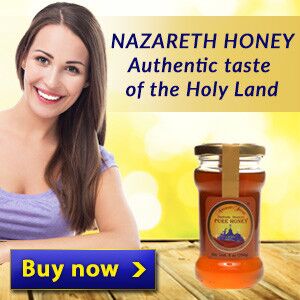 The Nazareth Secret Honey with warm water was just what a mother needed to sooth her daughter's sore throat. Another customer added Nazareth Secret Date Spread Halva Flavored to her biscuits for a warm sweet treat. Many customers love the fact that our products are made in the Holy Land and give them as gifts. Purchase the honey and date spread individually or in gift sets which can also include our morning and evening teas, and candles.
You can give a variety of experiences from Israel by buying our beautifully packaged gift sets. It is sure to be a gift to remember!