Nazareth Secret Honey is collected in the Nazareth hills, a place that is considered good and holy, and that holds a special place in the hearts of many worldwide.
Sadly, this beloved region has suffered severe damage over the last 300 years,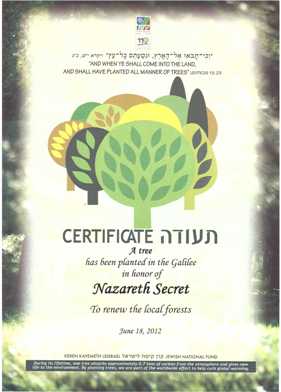 as a number of factors have resulted in increased desertification of the land. Forests play a fundamental role in protecting wildlife, supplying natural resources, and creating a space of beauty and recreation in the region, and Nazareth Secret is devoted to protecting them!
Nazareth Secret has made a pledge to support local reforestation with the sale of each jar of premium honey. Our company is a proud supporter of The Keren Kayemeth Lelsrael- Jewish National Fund, a local organization devoted to making the Nazareth hills a place that will continue to both thrive and offer solace to those who live, work, and travel here.
A percentage from the sale of each of Nazareth Secret products is used to purchase a 'tree certificate' from the KKL to help renew the local forests of Nazareth. With each certificate, we promise to help the KKL in its efforts to help protect the natural resources and protect the land that we call home.
Nazareth Secret Honey flavor stands out as products that you can feel good about serving your family and loved ones. Not only will it bring the warmth and beauty of the Nazareth hills into your home, but by making it a part of your tradition, you too can become a part of caring for these lands.
Thank you for your support!